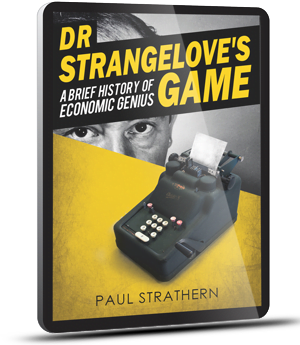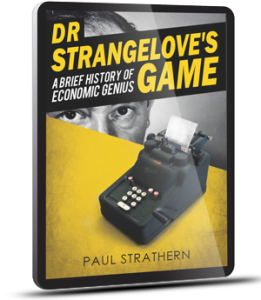 Brilliantly entertaining,
 Dr. Strangelove's Game
 will do for economics what 
Sophie's World
 did for philosophy and 
E=mc2
 for physics.
With the infectious enthusiasm of a great teacher and a novelist's eye for a colourful parade of often bizarre and idiosyncratic figures, Paul Strathern gives us a vivid account of the world of economics through the lives and minds of those who contributed to the growth of economic thought from the Middle Ages to the present.
The familiar and iconic names – Adam Smith, Karl Marx and John Maynard Keynes – turn out to be fascinating characters, as do a host of lesser-known figures – from Luca Pacioli, a medieval monk who used a ball game to stimulate thought about probability theory (and gambling) to John von Neumann, the manic genius who invented game theory, worked on the atomic bomb, and was probably the model for Kubrick's Dr. Strangelove. There are pessimistic priests, visionary socialists, crackpot academics, and an alleged murderer who controlled France's finances.
Paul Strathern sets their lives and thoughts against the dramatic backdrop of great events – the South Sea Bubble, the French Revolution, the Russian Revolution and the Great Crash. His lightly worn erudition makes Dr. Strangelove's Game amazingly accessible, leaving readers enriched and enlightened.
Due to be published in Spring 2018