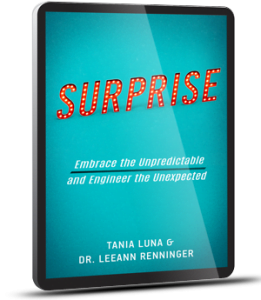 This book isn't about what you think it is.

 
An important how-to on making surprise into a habit to spark the best possible kind of change and progress in our work, relationships and ideas.
I've always loved the element of surprise, but it wasn't until reading this charming book that I fully understood why–and how to bring more of it into my life and the world.
Surprise! This delightful book will turn your understanding of predictability upside down. Take it from someone who loves routine and order: the unexpected lessons of this book can improve your life.
Surprise is a fascinating look at how we can handle and harness surprise in our work, relationships, and everyday lives.
Through colorful narratives and compelling scientific findings, authors Tania Luna and Dr. LeeAnn Renninger shine a light on the world's least understood and most intriguing emotion. They reveal how shifting our perception of surprise lets us thrive in the face of uncertainty. And they show us how surprise acts as a shortcut that turns a typical product into a meaningful experience, a good idea into a viral one, awkward small talk into engaging conversation, and daily life into an adventure.